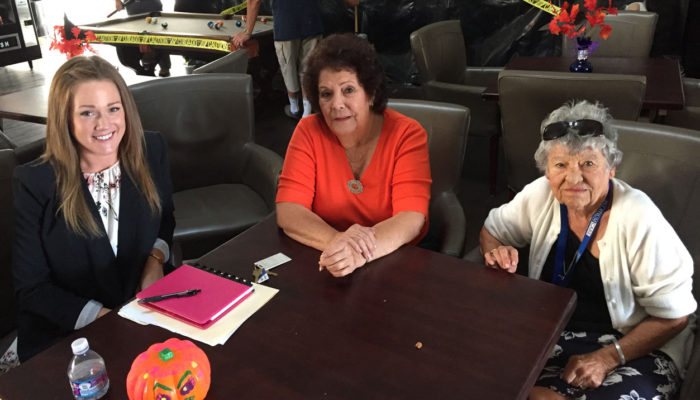 Our resident spotlights are aimed at learning how our communities have assisted and provided for those in each community.
Where were you living prior to living at Villa Anaheim?
Nora and her family owned a home in Buena Park very close to Knott's Berry Farm making it convenient for others to visit not only her but also the park. A fun fact she had was that at the time she was living in that home, there wasn't a park entrance fee. After she sold her home she then moved in with her Grandson in Costa Mesa. Even though she moved out of her Grandson's home to move into Villa Anaheim, he still comes to visit and helps her get the few items she needs that aren't offered locally.
How did you become involved with this property or how did you hear about it?
She drove by the property one day and noticed Villa Anaheim. She immediately put her name on the list and a month after doing so was selected for a unit.
The unit she was selected for was a 2-bedroom unit occupied by one other tenant whose husband passed away and was looking for someone to fill the second bedroom. Nora was an experienced traveler so liked the idea that she had a roommate. She lived with the roommate for one year and then moved into a unit of her own.
How long have you been a resident?
She's been a resident of Villa Anaheim for 3 years.
What do you like most about living at Villa Anaheim?
Nora quickly listed off several things that she loves about Villa Anaheim:
Staff and residents are friendly
There's a community feel – she doesn't have a large family near so feeling that there's a sense of community has really comforted her
Secure
Convenience – mostly all her errands are within walking distance so that she can get the things she needs taken care of without having someone drive her. When she can't walk to her errands she takes the bus that stops at Villa Anaheim.
What onsite activities do you like to participate in?
She loves to walk everywhere and walks 4 to 5 miles per day. She also volunteers at the local school that she can walk to.
How do you feel living at Villa Anaheim has changed your life?
Nora is very satisfied at Villa Anaheim and is happy to be living here.