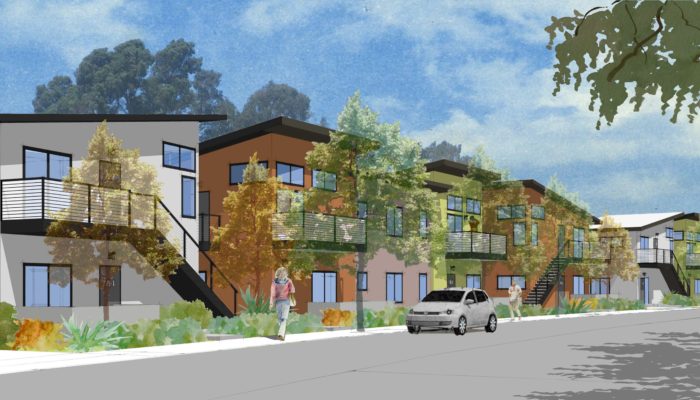 Development Team Overcomes Fire and Financing Uncertainty
Irvine, CA, January 2, 2018 – Integrity Housing, along with its developer partner, MW Development, Inc., is pleased to announce that it has closed on the property slated for the future Riverside Apartments, located at 691 Riverside Street in Ventura, CA. Formerly used for lumberyard storage, the one-acre property will become home to a 23-unit affordable, multifamily complex designed to serve low-income families with children. Riverside Apartments will provide high-quality affordable housing in an urban, infill location, benefiting future residents, the community, and the company's investors.
Riverside Apartments
The development team for Riverside Apartments worked closely with the City of Ventura Planning Staff and the City's Design Review Committee to develop a sustainable, livable community that will blend harmoniously with the surrounding neighborhood while providing a spark of architectural flair. The affordable community will consist of 23 units (22 units for tenants and 1 manager's unit). Designed for families, all units have either two or three bedrooms with ample living space incorporating a great room with an open kitchen/dining area/living area, and a breakfast bar. Community amenities will include a community room, laundry room, playground, a mini soccer field, and a centrally located picnic/BBQ area. The walkable property is adjacent to the Ventura Bike Path and less than a block from Sheridan Way Elementary School.
The project incorporates sustainable construction best practices, with an emphasis on energy and water conservation. The property, anticipated to be Net Zero, will incorporate photovoltaic solar panels on the roof, solar hot water heating, and rainwater harvesting to water the drought-tolerant landscaping. The units will feature Energy Star appliances, LED lighting, high-efficiency heating, and energy-conserving windows and insulation. Wherever practical, the project will incorporate recycled and repurposed materials.
Partners
Riverside Apartment is owned by Ventura Riverside Apartments LP, consisting of MW Development, Inc. (Administrative General Partner), Integrity Housing (Managing General Partner), and Aegon (Investor Limited Partner) with $3,153,310 in Low Income Housing Tax Credits (LIHTC). JPMorgan Chase Bank is the Construction Lender for $7,185,782, CalHFA is the Bond Issuer of $5,400,000 in bonds along with a soft loan of $300,000, and ten (10) project-based Section 8 vouchers were awarded by The Housing Authority of the City of San Buenaventura. The fiscal agent is US Bank. The property is being built by Judson Builders, Inc., designed by J.E. Armstrong Architects, Inc., and will be managed by FPI Management, Inc.
Michael Weyrick, President of MW Development, Inc., states, "The development team for Riverside Apartments is truly outstanding. They persevered and achieved the impossible numerous times over. Kudos to the entire team for working so well together to bring us to the closing table and making this project possible."
The Long Road to Closing
Five years in the making, the original financing model for Riverside Apartments included utilizing the traditional 4% Low Income Housing Tax Credit and Private Activity Bond ("PAB's") programs. Promise of tax reform from the Trump administration created financing uncertainty with the threat of eliminating PAB's, a very big piece of Riverside Apartments' financing puzzle.
The development and financing teams worked feverishly with the State of California on emergency regulations to allow the project to draw down all of the bonds before the end of 2017 and the enactment of the proposed tax reform. However, it came at a steep price: an additional $50,000 in an already very narrow budget.
Riverside Apartments was a day away from closing when Ventura, CA caught on fire. Chase Bank, the construction lender, announced the day of Riverside Apartments' closing they would not close on any transactions in the fire zone. The closing stalled.
A week later, Chase agreed to move forward with the loan. During this time it became apparent that the PAB's would not be cut by tax reform, thereby eliminating the need to draw down all of the bonds and saving the $50,000 in additional cost. Ventura Riverside Apartments LP closed on its construction loan on December 18, 2017. Construction commenced immediately, and is anticipated to be complete by November 2018.
Anjela Ponce, Executive Vice President and Founder of Integrity Housing, states, "Riverside Apartments will be one of our most rewarding projects. Not only will the project itself be an asset to the community, the long road to close on the project has been a major undertaking. I'm thrilled that this complex project is underway."